Are you familiar with the Kentucky Hot Brown?
A "hot brown" is named for the Brown Hotel (downtown Louisville) where it was first made/served. I would say that this is one of Kentucky's most well known recipes...and you might see it during Derby season also.
It is an open faced sandwich composed on top of toast points...then
baked in the oven.
Everyone may have a few different twists to the recipe...but there are some basic ingredients that each hot brown has: toast points, real turkey slices, morney sauce, cheese, bacon slices, and tomato slices. ( I always feel that a hot brown should have a slice of ham, and I prefer a slice of salt cured "country ham.")
The Brown Hotel's Legendary Hot Brown
In the 1920's, the Brown Hotel drew over 1,200 guests each evening for its dinner dance. By the wee hours of the morning, guests would grow weary of dancing and make their way to the restaurant for a bite to eat. Sensing their desire for something more glamorous than traditional ham and eggs, Chef Fred Schmidt set out to create something new to tempt his guests' palates. His unique dish? An open-faced turkey sandwich with bacon and a delicate Mornay sauce. The Hot Brown was born!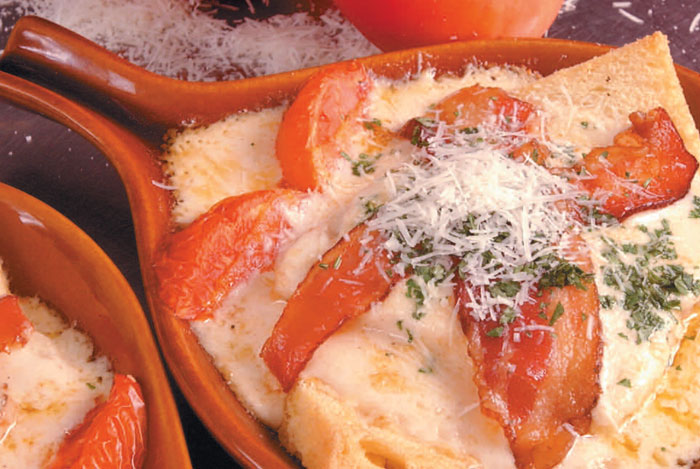 (The Hot Brown—a Louisville tradition with worldwide appeal—has been featured in Southern Living, The Los Angeles Times, NBC's Today Show, ABC News with Diane Sawyer, Travel Channel's Man v. Food, and The Wall Street Journal, and is a regular entry in many of the world's finest cookbooks.)
1 1/2 tablespoons salted butter
1 1/2 tablespoons all-purpose flour
1/4 cup Pecorino Romano cheese, plus extra for garnish
14 oz. sliced roasted turkey breast, slice thick
4 slices of toast (crusts trimmed)
2 Roma tomatoes, sliced in half
In a two-quart saucepan, melt butter and slowly whisk in flour until combined to form a thick paste or roux. Continue to cook roux for 2 minutes over medium-low heat, stirring frequently. Whisk heavy cream into the roux and cook over medium heat until the cream begins to simmer, about 2-3 minutes. Remove sauce from heat and slowly whisk in Pecorino-Romano cheese until the Mornay sauce is smooth. Add nutmeg, salt and pepper to taste.
For each Hot Brown, place one slice of toast in an oven safe dish and cover with 7 oz. turkey. Take the two halves of Roma tomato and two toast points and set them alongside the base of turkey and toast. Pour half of the sauce over the dish, completely covering it. Sprinkle with additional cheese. Place entire dish under a broiler until cheese begins to brown and bubble. Remove and cross two pieces of crispy bacon on top. Sprinkle with paprika and parsley and serve immediately.
Note…many people also include a thick slice of ham along with the turkey.
Note…The Kentucky State Park system includes a thick slice of salt cured "Country Ham" …and that is my favorite recipe!!!!
Once you get the basic recipe down...then you may tinker with the recipe some to suit your taste. I love a hot brown...and that is what I usually order when we go to Lure Lodge at Lake Cumberland State Resort Park.
I have been to catered events where "mini" hot browns were served. Same ingredients except on a much smaller scale, served as finger food. Start with a really small piece of toast. Then start building as for a regular hot brown, except with a dab of this and a pinch of that. You can use a mini-muffin pan to contain your mini hot browns while creating and baking.
Here are a few more versions too...
If you are really short on time and do not want to make a Mornay sauce from scratch...consider using some Alfredo sauce from a jar and thicken it with Parmesan cheese. It will not have the thickness of a Mornay sauce, but will work fine if you need to feed some hungry kids on short order! Toast, turkey, ham, cheese sauce, bacon, tomato, more cheese. Bake. What's not to like!
Thanks for visiting today.