We will have a simple Valentines celebration, with dinner at a restaurant on Lake Cumberland this year and then spend the evening at home. We keep Valentines celebrations fairly simple these days.
We also have a golden at home who needs our love and attention...holiday celebration or not. Mikey wants to be inside with his people when nightfall comes!
The sweet little Limoges box in the picture above is something that my daughter brought back from Paris, when she was going to school in London. I have tissue paper inside that tells the date and particulars...because, I love the memory attached to gifts.
I purchased something for hubby that I had not seen before...dark chocolate Hershey's kisses. He loves dark chocolate, but rarely eats chocolate because of the sugar/calories, etc. (For me, I love regular sweet chocolate.) And, since dark chocolate is supposed to have health benefits I picked up a bag. He promised that he would have just a few per day!
So, have these dark chocolate kisses been on the market for a while, or are they new? I try to stay away from the candy aisle...so if they are not new...I would not know. ha!
Hubby gave me a necklace for Valentines when the children were small. It has

a heart shaped pendant with diamonds around the heart. I wear it every day in February each year because I

attach a lot of sentimental memories to gifts, and this necklace is no exception.
And another memory...It seems that every year I think back to being a kid in grade school when I see paper doilies, cute little valentines, and stickers. Maybe I am showing my age, but I remember that we were to bring a shoe box to school. We would decorate said shoe box as our "mailbox" for the little punch out valentines we would give each other. We would use paper plates and paper doilies to make decorations for the classroom too. I seem to remember that there would be class "mothers" who would bring cupcakes and such for a class party. I hope kids still do these things at school.
Decorating shoe boxes is still a strong memory.
I could not resist purchasing a package of paper doilies at the dollar store last week. They pulled me because of the fun memories.
I think that Valentines is a good time to tell your special someone that you love them. Never miss the opportunity to say..."I love you." We are never guaranteed the next year, month, or day.
I hope you have a lovely Valentines with your sweetheart...and eat as much chocolate as you want!
I heard on the news this morning that there has been yet another study about chocolate, addictions, etc. And that chocolate seems to be very addictive...more so than some other highly addictive things. Hmmm. The good thing is that with a dark chocolate addiction you are getting some healthy benefits, until science tells us otherwise. ha! I don't know about you...but I go for the sweet stuff, as in milk chocolate, chocolate fudge, fudge sauce, chocolate cake, etc. I have not seen a good report about those forms of chocolate so far...but I have hope! :-)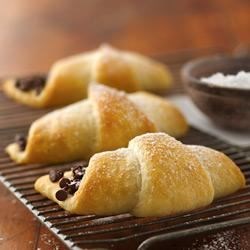 Just to tempt you, I have a recipe for you that I ran across recently. It is super simple and has chocolate. Two factors that are important for me.
Chocolate Filled Crescent Rolls
Preheat oven to 350 degrees.
a tube of smaller sized crescent rolls and

a 1/2 cup (+) of mini chocolate chips.
Separate dough into triangles.

Sprinkle about 1 Tablespoon of the chocolate chips on the wide end of the dough.

Roll up the triange of dough and place on an ungreased baking sheet.

Bake according to package...until light golden brown.

I am thinking "

pain chocolat.
Pain (au) Chocolat (Chocolate Croissant)
In looking around online I found a source for print at home valentine cards. These are just the cutest if you love make at home crafts. Also...they seem to be good resolution to use online for ecards. The website has many other free images...so take a look if you like the idea. You know that I have to share cool things that I find!
If you need to print out some last minute valentines try this link...
I hope you have a wonderful Valentine's Day with the one you love!
Wishing you romance, chocolate, and true love on Valentines...and always.
Thanks for visiting.
Sheila
©MyKentuckyLiving
Linking with...
Rattlebridge Farm Blog, Foodie Friday & Everything Else
http://designsbygollum.blogspot.com/2015/02/foodie-friday-and-everything-else.html