I want to share this family cake recipe with you since we have a long weekend and you may need one. It has a few names, but no matter...It is easy, easy!
This makes a great picnic or church cake!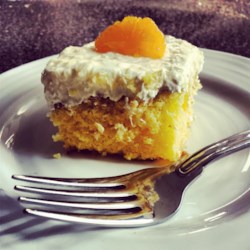 (image source- allrecipes.com)
Tropical Fruit Cake. Mandarin Orange Cake. aka...

Pig Cake
The first time I had this cake was when a friend of my mother-in-law brought it to our house...on the passing of my mother-in-law, Maxine. Back then (1983) we called it tropical fruit cake. I have also seen it called pig cake. All I know is that it made a "pig" out of me. I could not keep out of that cake pan. I have made this cake several times...and it always turns out great. Even "pie" people like this cake!
I have found this cake recipe all over the internet...by different names. I typed in mandarin orange cake....and found the recipes. Whatever you call this cake, this is a great spring/summer cake, as you keep it in the refrigerator until you want a piece.
Just Delicious! And Easy!
Prep Time:
10 Minutes | Cook Time: 30 Minutes | Difficulty: Easy | Servings: 16
FOR THE CAKE:
1 box (18.25 Oz. Box) Yellow Cake Mix (I have also used a white cake mix)
1 stick Margarine (softened)
1 can (14 Oz. Can) Mandarin Oranges, Drained, 1/2 Cup Juice Reserved
4 whole Eggs
1 teaspoon Vanilla Extract
FOR THE TOPPING:
1 package (4 Oz. Box) Vanilla Instant Pudding Mix
1 can (20 Oz. Can) Crushed Pineapple, Juice Reserved
(optional-for extra sweetness add 1/2 cup Powdered Sugar)
4 ounces, thawed Cool Whip
Garnish with mandarin oranges.
Preheat oven to 350 degrees.
For the cake, combine cake mix, margarine, 1/2 cup juice from the mandarin oranges, eggs, and vanilla. Beat for four minutes on medium-high. Add drained oranges and beat again until pieces are broken up and small. Pour batter into greased and floured 9 x 13 inch baking pan and bake for 25 to 30 minutes, or until golden brown and set. Remove from oven and cool completely. If desired, turn out cake onto a large platter.
Once the cake is cool, blend juice from the drained pineapples with the vanilla pudding mix. (optional, Add powdered sugar and mix) then mix in whipped topping. Stir in drained pineapple. Spread on cooled cake and refrigerate several hours.

To serve, cut the cake into squares and top each square with a mandarin orange slice. Refrigerate after serving.
Enjoy!
Sheila
linking at the following blogs...
----------